In July 2010, Amber and I got married in Wyoming. Since we both had fully furnished houses, we didn't want to register for more "stuff." Instead, we decided to register for a honeymoon. Neither of us had ever been to Europe before, so we looked at various options. In the end, we decided to play it safe and go with a cruise so that the travel, lodging, and food would be all set. We looked at all of the cruise lines and went with Disney because they had a great rating in the industry. We knew that Disney is all about "exiting through the gift shop," but we also knew that they bend over backwards to make everything perfect. We thought that "perfect" sounded like a good plan for a honeymoon, so we booked an 11 night, Mediterranean cruise.
We flew out of Seattle on Friday, July 8th. Our extremely kind neighbor, Mr. Campbell, got up at 5:30 in the morning to drop us off at the airport for our 7:00 AM flight. Everything was easy at Seatac and we caught our plane to JFK Airport in New York. At JFK there was a light drizzle and this was blamed for a huge traffic back-up on the runway. The result was that we taxied for take-off for 2 hours. For once, people in Seattle could laugh at other people for not being able to deal with weather. When the wheels finally lifted off of the runway, I started clapping and everyone else joined in. There was more clapping in Barcelona when the plane landed. The flight over was easy. They served food and free beer and wine and had TV's for each seat. After so many short, domestic flights where one receives nothing, it was quite shocking. Since it was an overnight flight, most people just slept.
Disney had a person to meet passengers as we got off of the plane. They guided us through customs, and then met us in the terminal, took our bags, and got us to a bus that took us to the ship. It was morning on the 9th in Barcelona and we got to the cruise terminal just about half an hour before they were ready for us to board. Disney must have counted on JFK being late.
Disney had instructed us to bring a carry-on with whatever we needed for the first day because they said that our bags might not be delivered until the evening. Actually, we boarded the ship, had some lunch, found our room, and our bags were delivered almost immediately. We met the steward that was going to be taking care of us for the next 11 nights, slept, took part in the emergency drill, slept some more, went to dinner, and then slept some more.
I have never been on another cruise, so I don't know how this compares, but on the Disney ship there were three restaurants for dinner. The seating is assigned, and your head server, server, and assistant server move with you every night as you rotate through the three restaurants. On the first night they find out about any allergies and then bend over backwards to make sure that everything is how you like it.
There is also a fancier restaurant named Palo on the top deck, 125 feet above the water, right at the stern of the boat. You can make reservations there for a small charge, so we did that on the night of our wedding anniversary on the 10th. The food and service were excellent, and they made us a "happy anniversary" plate out of chocolate.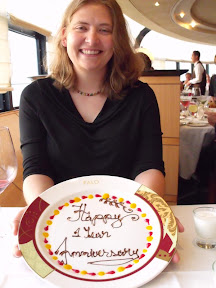 The 10th was a day at sea, so we had intended to take advantage of several cool activities on the ship and then go to Palo for dinner in the evening. We were still so jet lagged, however, that we ate breakfast and then went back to room for a "nap." We woke up 5 minutes before our dinner reservation! Amber and I rallied and got up there only 5 minutes late. I think the "at sea" day was Disney assuming that people from the States would be wiped out after traveling over night the day before.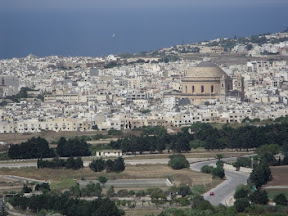 On July 11th we pulled into port in Malta. The rail of the ship was lined with passengers as we pulled in because, from the sea, the whole port looks like a medieval fort. It sort of is, really, because Knights of Malta fortified the port to protect it from the invaders.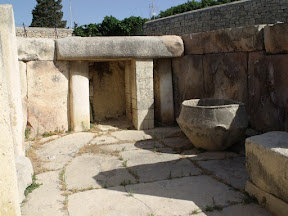 On Malta we visited stone temples that were older than Stonehenge.
We also saw cathedrals built by the Knights of Malta.
We visited the walled city of Mdina which only has 300 residents - and where all of the buildings are owned by nobility from 29 families. This is the causeway over the moat.
This stained glass window is in a church in Mdina.
I also captured this image of a side street in Mdina. This is a really small car, but you see how the owner has to park it. As it turns out, this is pretty typical in the places that we visited.
The ship traveled at night, so the next morning we woke up in Palermo on the island of Sicily. When we left the port on the bus and entered traffic, all of the tourists gasped. Our bus was trying to turn right onto a narrow road and there must have been 20 to 25 scooters, and 2 or 3 cars, left of center and coming right at us. The tour guide stopped and said not to worry, that this was perfectly normal, and that scooter drivers were crazy. Sure enough, the scooters parted like water as we passed right through the crowd without slowing. If you are familiar with The Knight Bus from the Harry Potter series then you will understand what bus rides in Sicily and Italy are like. I am fairly certain that we defied the laws of physics on several occasions, making impossible corners, driving with one side of the bus on the sidewalk, etc. There are almost no traffic lights, and certainly no enforcement. There also doesn't seem to be any off-street parking, and there are about 3 times too many cars on the road as there should be. Everywhere you go - and I mean everywhere - from major roads to pedestrian-only streets, there are hundreds of scooters. Somehow, it all works. We never saw an accident.
Many churches have amazing, bronze doors. The panels tell a story from the bible.
This is just an out of the way church on a side street. When these churches were being built, wealthy families and other groups would try to one-up their neighbors by having the most beautiful church.
The next morning we woke up in Naples, Italy. This picture is of Sorento. There is one road to Sorento, and it was built 200 years ago. It is narrow, twisty, and hangs off the side of a cliff, but the views are amazing. Once again, I was glad not to be driving. In the photo you will see little red things by the water. Those are all beach umbrellas.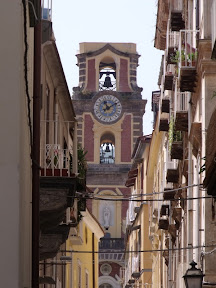 The city of Sorento was very pretty. They specialize in wood carving and lemon liquor, but probably not at the same time.
Later that same day we went to Pompeii. This is one of the places where I would like to return and spend more time. It is a lot larger than I imagined that it would be.
This is the original port at Pompeii. The eruption that buried the town in 79 AD also moved the coast line 7 miles away.
There are a lot of things to see at Pompeii. From Roman baths to villas, streets of shops, the forum, etc., but the most poignant were the casts of the people that were buried by the ash.
I thought that the funniest thing at Pompeii was the bakery because we had pizza out of an oven exactly like this in Palermo, and we saw more in other restaurants.
The following morning brought us to Rome. This is one time when we were really glad that we were on a tour because the line just to buy tickets for the Colosseum was 2 hours long. That was a fascinating place. Some of the best parts of the day were unscripted moments, like when a couple of tourists were driving a Volvo wagon right through the huge crowd of people in the clearly, pedestrian-only area outside the gate to the Colosseum. The Italian police started shouting at the tourists, who shouted back. A lot of hand waving and more shouting later, and the Volvo was headed back to the road and the Italian police officers were just shaking their heads. If someone did that in the US I am pretty sure that someone would have been tazered, at a minimum. Amber spotted a young woman on a scooter that typified "necessity is the mother of invention." She was driving along in traffic while wearing a nice, summer dress, a backpack on her back, another on her front, a bag on the foot rest of the scooter, where her dog was also sitting quietly with its head hanging over her arm.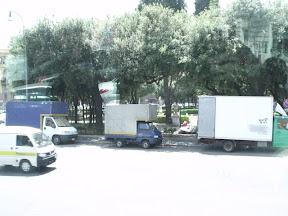 I also spotted a little, tiny, delivery truck. I have to apologize to Amber because I was having just as much fun spotting different cars that we don't have in the States as I was enjoying Italy.
We also visited the Trevi Fountain which is fed by a 2000 year old aqueduct. Our guide gave us each 3 pennies to toss in which is supposed to ensure that we will return one day.
Later that same day we went to the Vatican Museum. This is another place where we could have spent a lot more time. It turns out that the Catholic Church has been collecting Greek and Roman pieces of art and stashing them away for safe keeping for 2000 years. The Vatican Museum is more of a museum about Rome and Italy than just the Vatican. There are a lot of amazing pieces in there.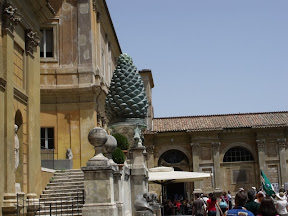 This gigantic, Roman bronze is a pinecone and pre-dates Christianity. I saw 2 exact copies of this, but about 12 inches high, on the front porch of a house by Alexander's school. I wonder if they know...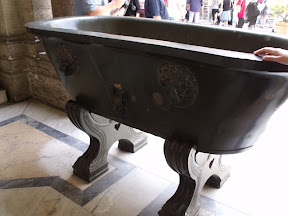 You know that old fashioned bath tub in granny's house? Well here is a Roman one - carved out of one piece of stone.
This is just a big room full of marble animals collected from ancient Rome.
A cement dome - from Roman times. How long did the Kingdome last?
This is just a decorative bowl from a Roman Villa - made out of one piece of stone. You might note the size of the people walking behind it.
This a pretty rare bronze statue of Hercules. Most bronzes like this were melted down by various invaders one of the many times that Rome was sacked.
This is the ceiling of one gallery in the Vatican Museum. They were all embellished in some way.
We made our way through the Cistine Chapel - where they don't allow photography - and then over to St Peter's which is the largest Catholic Church in the world. Even though there were a lot of people in there, it didn't feel crowded because it is on a gigantic scale.
The next day was a day at sea, and the day after that we arrived in Florence. These are the fabled "Gates of Paradise" - or rather, exact copies since the originals are gold and are in a museum. Anyway, amazing.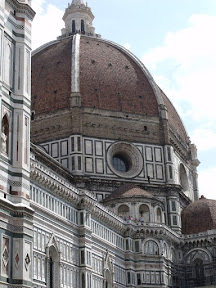 The Gates of Paradise are on the building next to this church which is the third largest Catholic church. To get an idea of the scale, see if you can spot the people on the balcony railing.
There is a medieval keep in the center of Florence and it is still used as the town hall.
The Ponte Vecchio bridge is lined with gold merchants and has been standing over the Arno river since the 12th century. The legend goes that, in WWII, when the Germans were retreating and blowing up all of the bridges behind them, that they spared this one because they couldn't face destroying it.
We had an amazing lunch in Florence, and then headed over to Pisa. Our tour guide was from Florence and, apparently, Florence and Pisa have hated each other since the 14th century when they were city states and fighting over control of the local wine. Anyway, she called this the "biggest architectural mistake in Italy" and did not hide her feelings about Pisa. I have to say, however, that Amber and I liked Florence better, too.
As we left Florence, and Italian waters, the Disney ship had a deck party with fireworks and the longest buffet line I have ever seen. The ship was, literally, about a thousand feet long, and they had tables of food all long the port side of the 9th deck by the pools.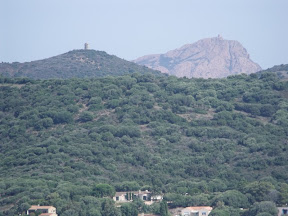 After Italy we arrived at French owned Corsica. This was a beautiful island and we only took a half day tour so we had time to just wander around the old part of the city. In the picture, above, you will see two hills with watch towers on them. Corsica used to have a big problem with pirates so they built these towers all the way around the island. If an attack started, they would light a signal fire on top of the tower, and then they next tower would light there's, and so one - exactly like we saw in Lord of the Rings.
The last stop was supposed to be in the South of France, but the sea was too rough there to get us safely ashore. The Disney crew came up with a new stop at the Spanish island of Majorca, where they had never been, and completely re-planned everyone's schedule overnight. There were 2500 guests and a thousand crew. We had a day at sea and when we arrived at Majorca it could not have been better. We were not even supposed to go there, but it turned out to be our favorite stop. We were kind of tired of bus tours at this point, so we just went ashore with our friends from our regular dinner table on the ship and had an excellent day of wandering old streets, eating at a fantastic, sidewalk cafe, and stopping in some cool shops.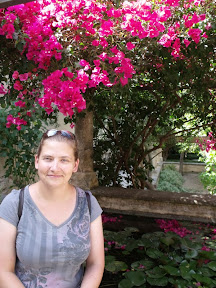 The next day it was back to Barcelona and Disney had us back to our plane just as seamlessly as they had done when we arrived. Amber and I can't begin to thank everyone enough for their generous gifts towards the cruise. It was a trip of a lifetime, for sure.